Support available from The TCM Group
As you would expect from the world's leading provider of early dispute resolution, change management and cultural transformation, TCM have developed an extensive and scalable range of solutions to support organisations on their resolution journey. Each of the modules described below can be delivered on a stand-alone basis, or can form part of a bespoke package, tailored to the unique needs of your organisation.
Consultancy and Project Management Support
Embedding a transformational approach to handling complaints, concerns and conflicts in the workplace requires a number of significant changes. We offer a range of consultancy packages including introductory webinars, planning sessions, template documents and expert advice to support the design, development and implementation of the Resolution Framework™ within your organisation.
Our clients tell us that whilst they value TCM's professional facilitation, impartial advice and expertise in early dispute resolution takes the uncertainty out of the process.
The most common areas in which we provide consultancy and training support include:
Scoping the project plan
Drafting the Resolution Framework™ and associated guidance documents.
Building an evidence-based business case (see next section)
Training internal mediators , coaches and investigations plus training HR, managers , unions, and others to understand and optimise your Resolution Framework™
Undertaking TCM's unique 5D Review™
For the greatest chances of success, a data-driven and evidence based approach should be taken prior to implementing your Resolution Framework™.
A key enabler of this is our 5D Review™ . During the 5D review, we will use TCM's innovative Cost of Conflict Calculator™ to establish the financial impact of your current grievance, disciplinary and performance processes.
During the 5D Review, we collate quantitative and qualitative data, interview key stakeholders and deliver focus group sessions to generate an in-depth analysis that will shape the implementation plan.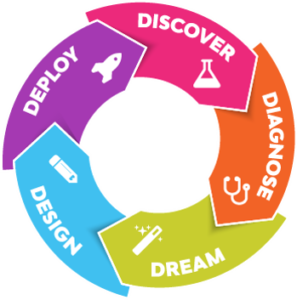 Following the 5D Review™, we will produce a detailed report comprising headline outcomes, actionable solutions and measures of success. The report can be presented to the key stakeholders to help achieve that all-important buy-in.
Resolution Checklists
To help organisations seeking to assess and improve their current approaches to early dispute resolution, we've developed a selection of resources to support you. These are suitable for leaders, managers, union reps, and those within a HR/ People function role.
These carefully tailored packs contain information across a range of formats. Each serves to provide guidance to support each of the stakeholder groups to bring about a resolution within the following areas:
Developing a Values and Behaviour Framework
The transformation of your grievance, disciplinary and performance policies and procedures should be underpinned by the organisation's values and behavioural codes of practice.
Successful organisational cultures are built on shared values and agreed behaviours. We can support the development and embedding of those shared values and behaviours through the creation of a Values & Behaviour Framework. By delivering thought-provoking workshops with key stakeholders, such as the Senior Leadership team, HR, union representatives, employee groups and front-line staff members, our expert consultants will support the development of a shared values and behaviour framework unique to the organisation.
Training programmes to embed the values and behaviours such as our Confident Conversations™ and Values-Based Leadership™ can support leaders, managers and other key personnel.
Open and authentic values and behaviours are the basis of an early resolution culture. They need to be defined and practised within your organisation, for a supportive culture to be established. Ensuring that everyone in the organisation is living your values, will encourage a values-driven culture and actively prevent conflict from developing in the first place.
Stakeholder Engagement
Implementing the Resolution Framework™ will result in an overhaul to existing processes for responding to issues of conflict at work. Such changes need to be communicated across your organisation. Our expert consultants can provide support in communicating how the framework works and outlining the change management processes that will need to happen. This is often initially in the form of a strategy workshop, delivered to the key staff members involved in the early dispute resolution processes.
From this point, your internal team can assist to build a more comprehensive structure for communication and consultation in the organisation. It is central to the success that change management is correctly understood and implemented in support of the framework.
Setting up a Resolution Centre™
The Resolution Centre™ (or unit) comprises a group of key staff members with responsibility for managing the resolution policy and coordinating its associated resolution processes. The Centre members are typically HR or People & Culture professionals but can also include management and union/ employee representatives.  The members of the Resolution Centre™ will become known within your organisation as the experts in all-things resolution.
To succeed in their role, we recommend they undertake two essential training courses. Our 2-day Routes to Resolution™, and 2-day HR as Coach & Mediator™ courses provide members of the Resolution Centre™ with the skills needed to succeed.
Apaxio®: The Resolution Case Management System
Managing an entire organisation's worth of dispute resolution activities has a lot of administration and paperwork involved. To make the process smoother, we have developed a unique case management software system, entitled Apaxio®.
The platform handles the day-to-day management of resolution casework, while also offering in-depth evidence and data analysis to report on the effectiveness of your resolution processes. This is effectively a dashboard for the leadership team to keep a close watch on costs and benefits. It can also be used to assess where potential problems are arising, and take proactive action to address conflict.
The Resolution Index™: A unique Triage Process
As part of the Resolution Framework™, each Request for Resolution™ submitted to the Resolution Centre™ is assessed – or 'triaged' – then scored, against a set of defined criteria known as the Resolution Index™. This triaging and scoring of Requests for Resolution™ allows the Resolution Centre™ lead or Triage Panel (for more complex cases) to determine the most appropriate route to resolution.
To facilitate the development of a successful triage system, we can deliver a facilitated workshop to your HR and management teams. Here we will ensure the specific criteria are agreed upon, and documentation bespoke for your organisational needs is produced.
It is also important to "dry-run" the index so that experience in its use, as well as the application of the triage, is tested for consistency and to iron out any glitches. Our skilled Resolution Consultants will support and facilitate those on the course to develop and embed their skills and knowledge.
Consolidating a triage system may take a few meetings as the team learns to triage the requests, apply the Resolution Index to score the request, and align the process with the values of the organisation. Every organisation's Resolution Index™ will be unique however, some of the criteria can be generic.
Mediation and Investigation Skills Training
It is essential that internal mediations and workplace investigations, both of which can be complex as well as sensitive, are undertaken by staff members who are trained and skilled in those disciplines.
We offer a wide portfolio of training courses, suitable for all levels. For mediation, we have introductory-level training events right up to our flagship programme, the acclaimed OCN-Accredited National Certificate in Workplace Mediation™. For investigations, we also have introductory courses, but our flagship programme is Practical Investigation Skills™. For staff with existing experience, who are seeking to refresh or upskill, we can offer tailored advanced options in both of these disciplines.
All of our courses are a blend of experiential and theoretical content. We provide flexible training delivery options which include:
Open Access Courses – for individual bookings
In-house training – for larger groups
Online training via Zoom or MS Teams – for geographically dispersed teams
Sector-specific training – tailored to specific organisations, such as healthcare or local authorites.
Mediation, Investigation and Team Facilitation Services
At times, certain complaints, concerns or conflicts may become too complex for your internal staff to handle. There might be an especially high-profile case, or perhaps your resolution team are too busy working to resolve a large number of issues.
Whatever the circumstances, our team of expert dispute resolution consultants are at hand to help. We can deliver outsourced Mediation, Investigation and Team Facilitation services on a case-by-case basis, or through an ongoing contractual arrangement. They can also act as a co-mediator to help guide an internal staff member through one of their first mediations, or with a particularly challenging case.
Setting up an in-house Mediation Service
Thanks to our 20 years' experience in embedding mediation services across a variety of organisations and sectors, we understand that much more is involved than delivering training alone. We are here to provide the support to ensure your mediation service can complete its daily functions and provide ongoing, highly effective, early dispute resolution.
For organisations seeking to make use of mediation as a method for resolving conflicts for the first time, we can offer a full package of support. In addition to the relevant skills training, this can include:
Consultancy Support to develop a functional service
The provision of relevant documentation
Specific training for those coordinating the mediation service
Engage Leadership™ & Management Training
Central to the successful integration and uptake of the Resolution Framework™ is the ability of managers to lead well, and handle issues of conflict in their earliest stages. These skills don't always come naturally as employees progress into a more senior role. Training and development in these key areas provides an excellent return on investment, as it inevitably prevents conflicts from entering the later stages of the framework.
Engage Leadership™ is a unique range of management training, leadership development and consultancy services. We provide leaders with the tools needed to create highly engaged, well-performing teams. Our leadership offering includes:
Short training courses
Team development
Behavioural frameworks
Longer-term leadership development journeys