HOW DOES THE RESOLUTION FRAMEWORK™ WORK?
TCM's groundbreaking Resolution Framework™ offers a fully integrated approach for handling grievance, bullying, harassment, discipline, conduct and performance issues. We have coined the term an integrated people policy (IPP) to define this kind of modern and exciting model of HR policy. This section of our website explains how the Resolution Framework™ works and how to begin the process of integrating it into your own organization.
This explainer video provides a useful overview of the Resolution Framework™. There are loads more resources available through the Resolution Hub including articles, podcasts, webinar readings and recommended reading.
Of course, if you complete the form at the end of this page, we will be very happy to provide you with more details, plus a complimentary copy of our eBook – Stepping Stones to Resolution.
By the way, did we mention that our CEO, David Liddle, has written three bestselling books all of which feature the Resolution Framework™? As well as providing a detailed overview of the Resolution Framework™, his books include powerful case studies of its use in organizations as diverse as Burberry, TSB Bank, Nationwide Building Society, Aviva, the NHS, universities, councils and government departments.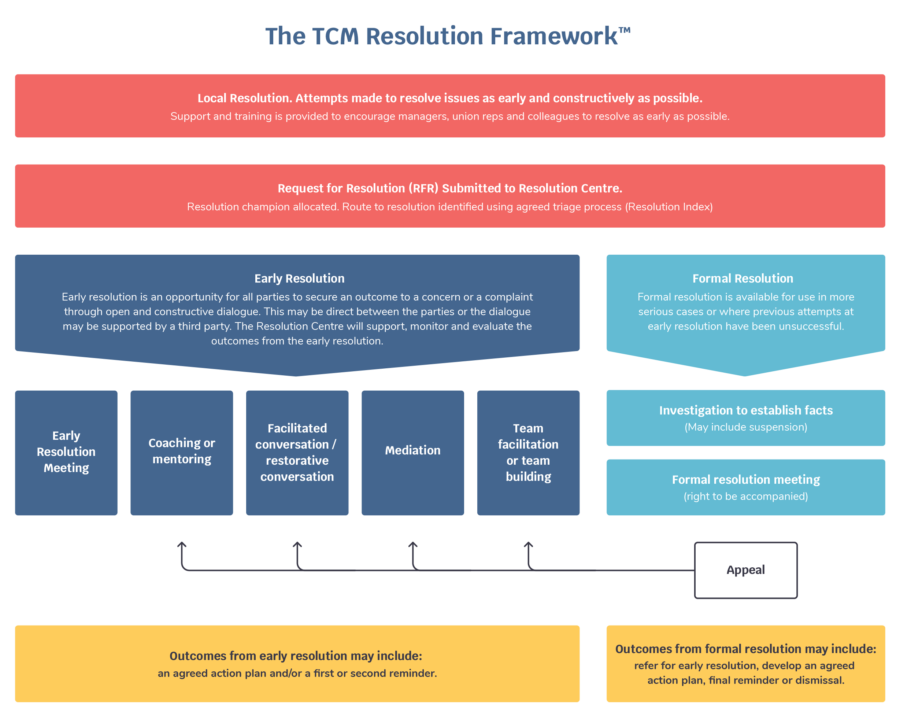 The Resolution Framework Process Map™
The image to the left provides an overview of the various stages and elements contained within the Resolution Framework™. Set out below is an explanation of the areas which distinguishes the Resolution Framework™ from other polices and procedures and those elements which are retained form existing HR policies.
Please click on the image to enlarge it. The Resolution Framework™ and Resolution Framework Process Map™ are trademarks and are the copyright of The TCM Group. When we work with you, we will provide a full license for the use of the Resolution Framework™ and all of the associted materials, toolkits, templates and documents.
What's different?
This column includes details of new developments which make the Resolution Framework™ so unique:
A cross functional Resolution Centre is developed to take a strategic oversight of the new Resolution Framework™.
HR, unions (or employee reps) and managers work together to drive and sustain resolution and the outcome.
It uses a powerful resolution triage assessment using TCM's innovative Resolution Index™. The Resolution Index™ offers an objective, structured and consistent decision making process.
Dialogue is given primacy and there is a significant emphasis on early resolution.
The Resolution Framework™ links to your core values and agreed behaviours and provides a route map for managers and HR to address poor behaviours quickly and constructively.
Transformative justice replaces retributive justice. Developed by David Liddle. Transformative Justice (or TJ) is a powerful blend of procedural justice, distributive justice and restorative justice.
Case reviews and user feedback result in extensive learning and insights used for driving cultural and systems change.
We have also updated much of the language in the process to promote adult to adult dialogue and to make it more inclusive, constructive and supportive.
Reminders replace warnings.
Hearings are replaced with resolution meetings.
Resolution action plans replace performance improvement plans (PIPs)
A new role to support resolution has been created – Resolution Champions.
What's the same?
This column includes details of the areas of the Resolution Framework™ which retain current practices and provisions:
The Resolution Framework™ is fully legally compliant plus it is compliant with the Acas code of practice on discipline and grievance procedures (aka The Acas Code).
People and culture (HR) still have access to detailed audit trails in case of future litigation or court action.
Ability to investigate and take formal action in serious cases including suspension and dismissal.
Gross misconduct may still result in dismissal, with or without notice.
Managers are still expected to take responsibility for managing the situation, albeit there is enhanced coaching and other support available to them through The Resolution Framework™.
Employees, managers and others still remain accountable for their actions. This is not a process of going soft on bad behaviour. The Resolution Framework™ still holds people  to account for the way they behave and the choices that they make.
Working  closely with a number of expert legal processionals, we have ensured that absolutely no hard won employment rights have been adversely impacted by the Resolution Framework™:
Employees have the right to be accompanied throughout the process (barring mediation).
The entire process is procedurally robust. Unlike traditional disciplinary and grievance procedures where there is very little scrutiny or accountability. The Resolution Framework™ is subject to to full scrutiny via regular case reviews, appeals, user feedback and quality assurance systems developed by The Resolution Centre.
Employees retain a full right of appeal and the appeals process remain independent and objective from the application of the Resolution Framework™.
Resolving disagreements in a constructive and inclusive way is fundamental to creating a great workplace culture. When we embed a healthy, inclusive approach to resolving conflict into our culture we will bear the fruits of better decision making, stronger working relationships and higher-performing teams.
I'd like to know more
Please complete this short form and we will be in touch to arrange an introductory call. We will also send you a bonus copy of our Resolution Framework™ eBook – 'Stepping Stones to Resolution.'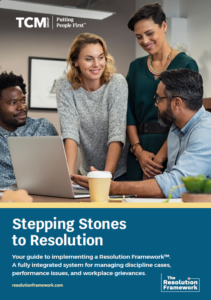 We look forward to talking with you…